The
CA-620

system is a compact, fully automated coagulation analyser which utilises the proven optical detection technology and the same reagent system of Sysmex coagulation family analysers. It offers high performance automation for clotting assays in a true random access. Combining the simplicity of use and diagnostic power, the laboratory can be confident that they continuously stay ahead in haemostasis testing with the CA-620.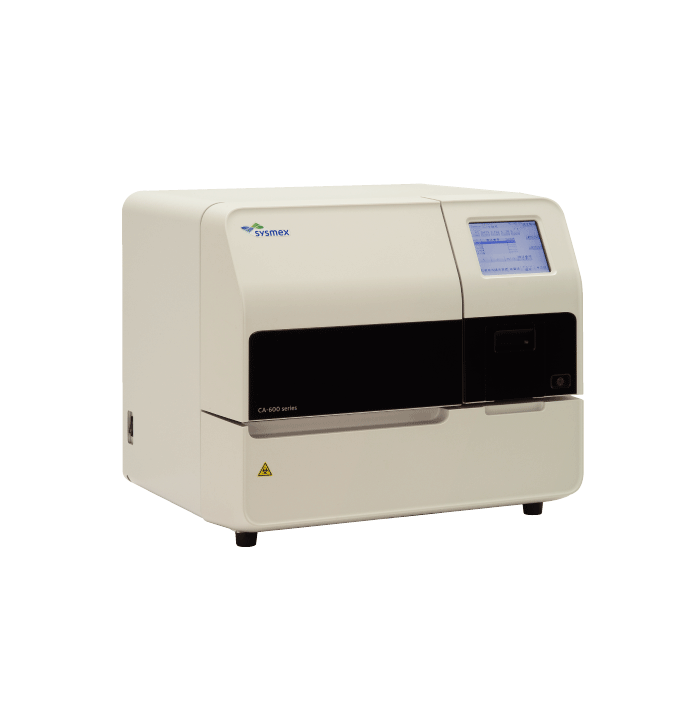 Sysmex's smallest fully automated haemostasis analyser that offers clotting detection principle.
The CA-620 system offers an economical, automated solution for low-medium volume laboratories to achieve analytical excellence, workflow efficiency and improved data management.
Excellent data management
Detection principles
Clotting: scattered light detection method
Detection channel/method
4 LEDs with wavelength 660 nm for clotting assays
Parameters
5-parameter random
analysis simultaneously
Throughput
PT: 60 tests/hour
PT/APTT/Fbg: 42 tests/hour
Sampling
Continuous-access 10 sample rack
1 dedicated STAT position
Reagent holder
13 positions (with 4 cooled and 3 dedicated to diluents, buffers or cleaning reagents)
Reference curves
1 reference curve per parameter
1 lot per parameter
Maximum 14 parameters
Quality control
X-bar control, Levy-Jennings control
6 files with maximum 180 points each
Data storage
Up to 600 samples / maximum 3,000 tests
Printer
Internal printer
Dimensions (WxHxD)/weights
566 x 490 x 490 mm, 42 kg (approximate)
The CA-620 system offers an economical, automated solution for low-medium volume laboratories to achieve analytical excellence, workflow efficiency and improved data management.

Excellent data management

Detection principles
Clotting: scattered light detection method
Detection channel/method
4 LEDs with wavelength 660 nm for clotting assays
Parameters
5-parameter random
analysis simultaneously
Throughput
PT: 60 tests/hour
PT/APTT/Fbg: 42 tests/hour
Sampling
Continuous-access 10 sample rack
1 dedicated STAT position
Reagent holder
13 positions (with 4 cooled and 3 dedicated to diluents, buffers or cleaning reagents)
Reference curves
1 reference curve per parameter
1 lot per parameter
Maximum 14 parameters
Quality control
X-bar control, Levy-Jennings control
6 files with maximum 180 points each
Data storage
Up to 600 samples / maximum 3,000 tests
Printer
Internal printer
Dimensions (WxHxD)/weights
566 x 490 x 490 mm, 42 kg (approximate)